Tutoring Croydon students, as well as those from surrounding suburbs, is central to our vision of good health through education and intelligent energy action. At Deco Place, we believe that a good education is foundational to establishing and sustaining good health, which is why we are pleased to offer academic tutoring to complement our health services.
We offer academic tutoring in Croydon Victoria for primary and secondary school students on Wednesdays and Thursdays after school between 4pm to 7pm.
The sessions are for 50 minutes, starting 5 minutes after the hour and finishing 5 minutes before the hour – allowing for a smooth transition between sessions.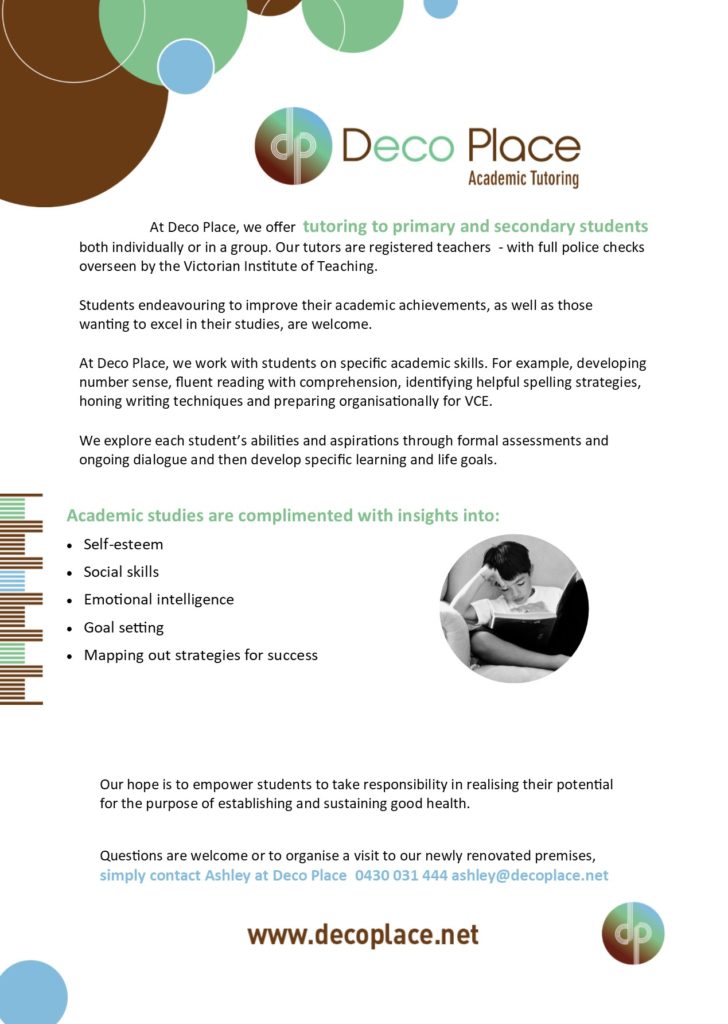 Tutoring can be for individuals or small groups (up to 6 students) and occur at Deco Place, a pleasant and professional premises in the heart of Croydon. The cost of tutoring is $50 for individual tutoring, with group tutoring offered at $30 each student for a group of two, $20 each for a group of four, and $15 each for a group of six.
Ashley Taylor, the Head of Education and Energy at Deco Place, will provide the academic tutoring. Ashley is a fully qualified and registered teacher with the Victorian Institute of Teaching (VIT), which means he has an up-to-date and approved police check through the VIT. Ashley has both a Bachelor and Masters degrees from The University of Melbourne.
Ashley has been a teacher, after school hours coordinator and educational policy advisor for 20 years and has worked in a wide range of schools and organisations. His most recent experience has been at Ruskin Park Primary School and Ringwood Secondary College. He has an excellent understanding of differing learning styles and always tries to make learning enjoyable and purposeful.
In time, Deco Place has plans to recruit a team of tutors to service a range of suburbs throughout Melbourne.
Please call Ashley on 0430 031 444 to ask any questions about tutoring at Deco Place.